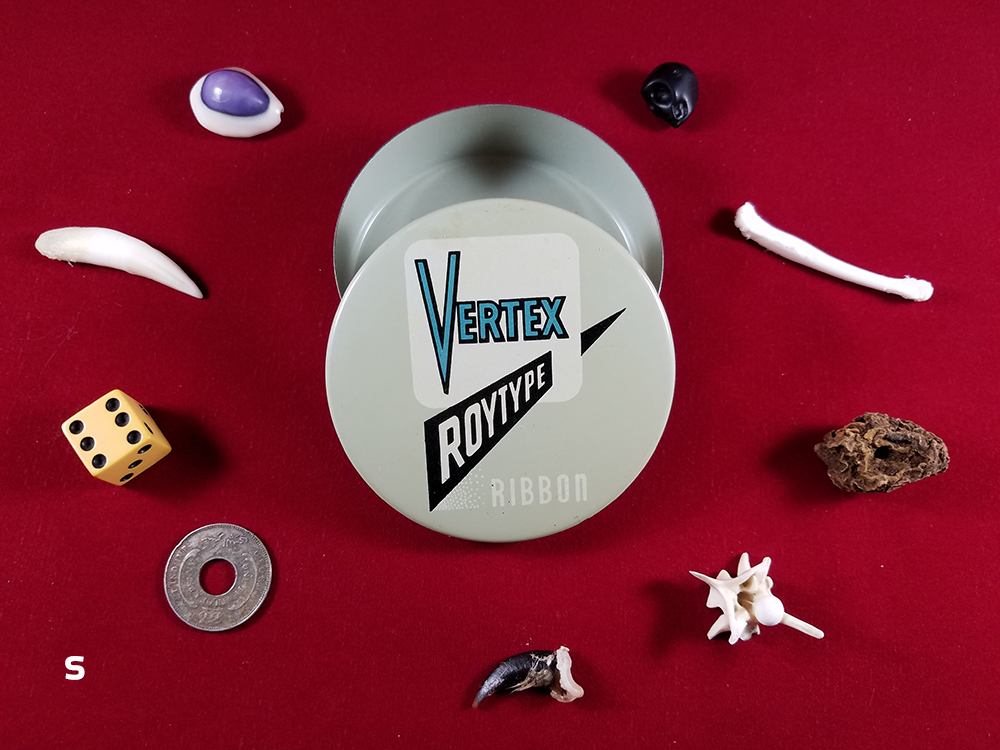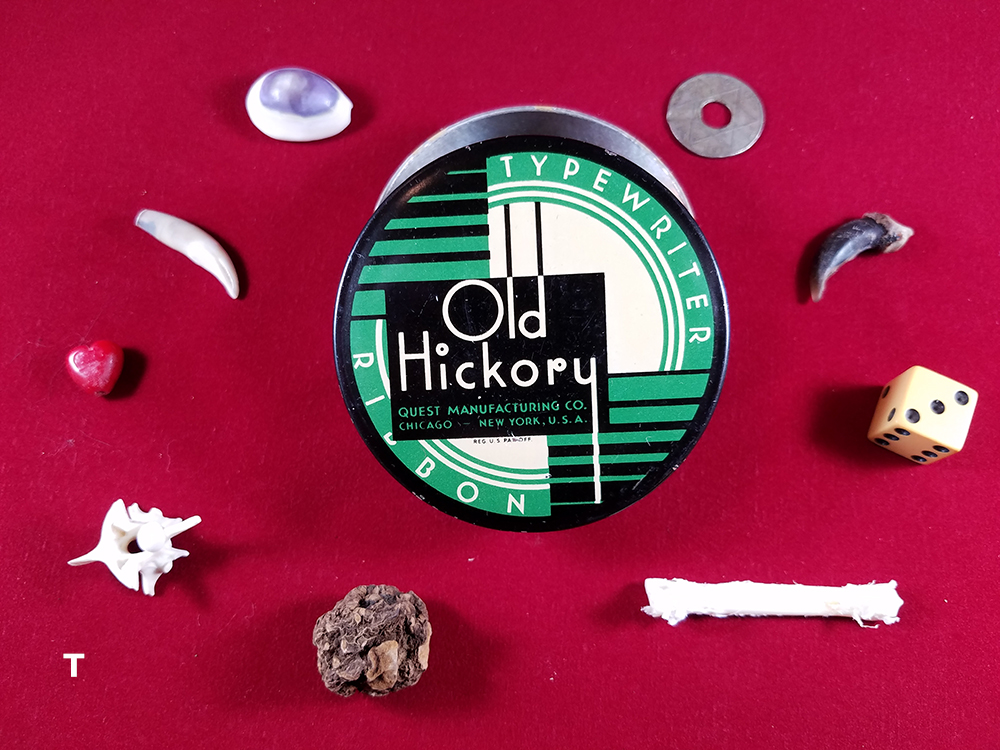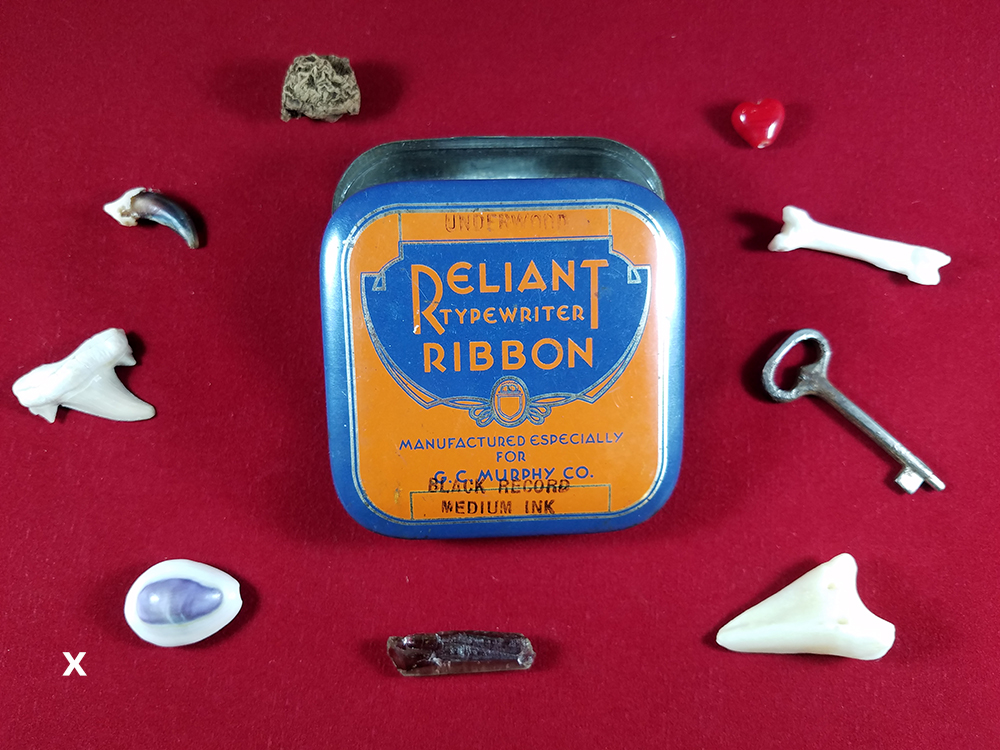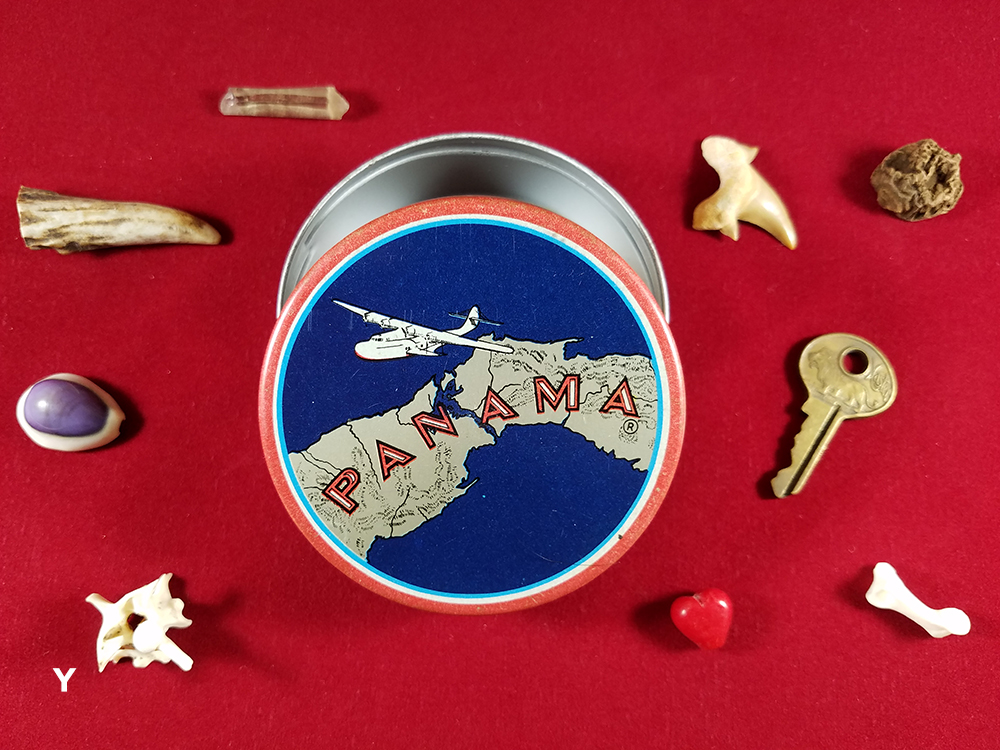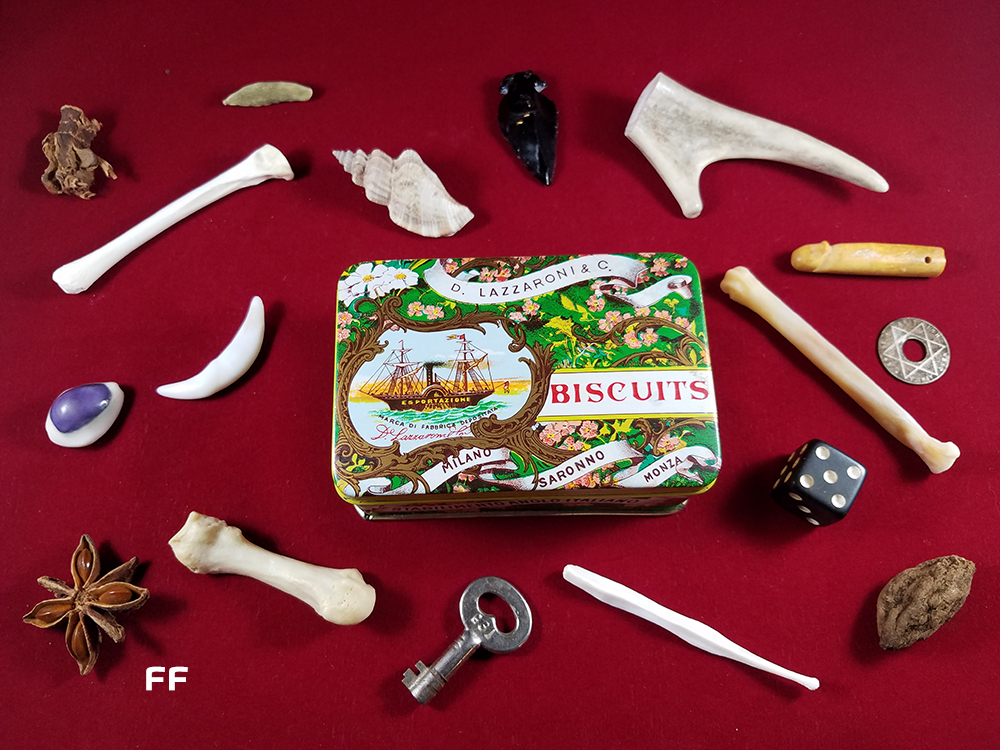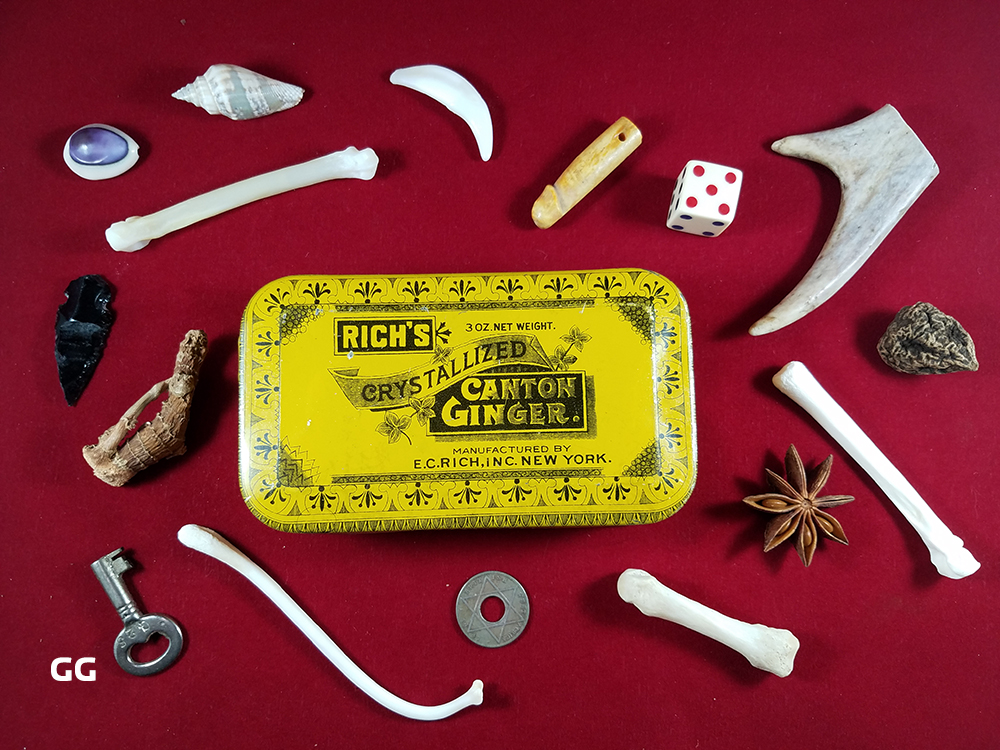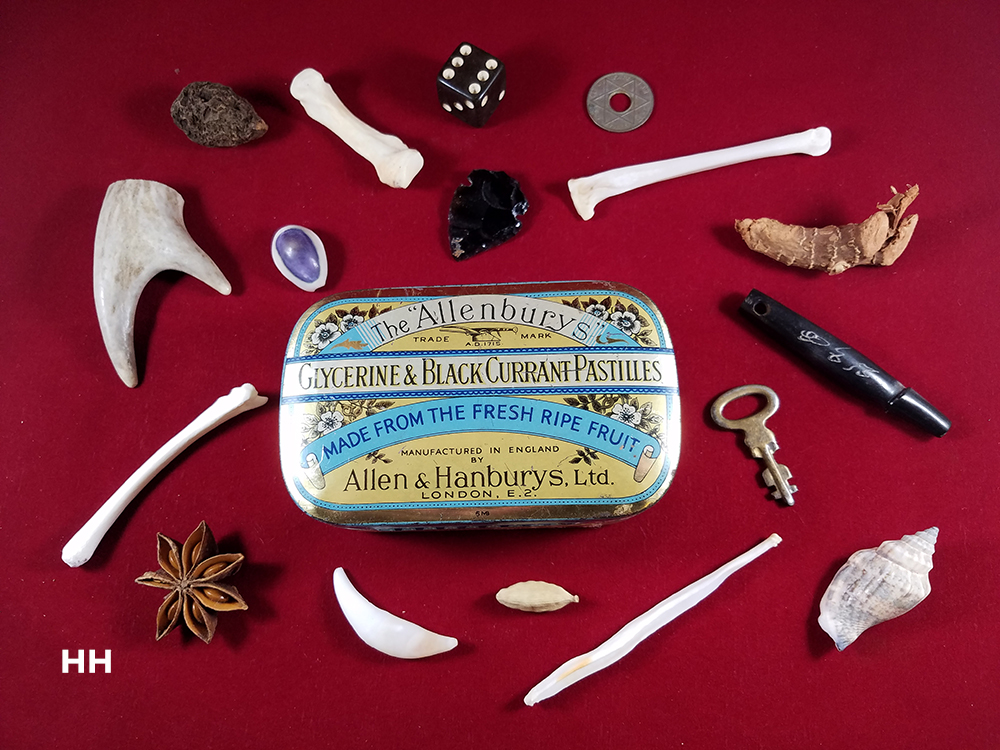 9-18 Piece Divination Bone Sets
$36.00 - $116.00
"Naughty John, Naughty John, does his work with his apron on. Cuts your throat and takes your bones, sells 'em off for a coupla stones."
―Libba Bray, The Diviners
In bone divination, also known as throwing the bones, bones are softly tossed (like dice) and then interpreted by the patterns. Throwing the bones in a variety of forms is traditional in many cultures around the world, including Africa, Asia, and the Americas. There are often other small objects included such as shells, roots, nuts, and amulets of all kinds.
Mother Maggie's one-of-a-kind starter/travel bone sets each contain an assortment of 9-18 (labeled) real bones, teeth, claws, shells, roots, nuts, and seeds, amulets and talismans, and a detailed guideline sheet of suggested symbolism, housed in an antique tin.
We will not knowingly carry bones from an endangered or protected species. We do not support poaching of animals. Our sources obtain bones from natural and predator deaths, road kills, and legal hunting and trapping operations.
Each piece has been cleansed by Mother Maggie's during curation, but cleansing the set and each piece yourself (with a spiritual cologne or by smoke) while getting to know the collection is suggested. We also carry 2 great books about bone-throwing.
P. 9-Piece Travel Bone Set
Domestic Cat Metacarpal (foot) 1.25 inches; Coyote Claw (foot) .75 inch; Red Fox Canine (tooth) 1.25 inches; Diamondback Rattlesnake Vertebrae (spine) 1.25 inches
Carved Bone Skull Bead (unknown); British West African Star of David Half-Penny, Antique Carved Wood Dice (single); Purple Cowrie Shell
John the Conqueror Root
Antique Manifold Panama Typewriter Ribbon tin, approximately 2.5 inches
P. Travel Bone Set - $40.00
Q. 9-Piece Travel Bone Set
White-Tail Deer Antler (tip) 1.75 inches; Lynx Phalange (toe) .8 inch; Diamondback Rattlesnake Vertebrae (spine) 1.25 inches; Fossilized Shark Tooth 1.25 inches
Antique Key; Glass Heart Bead; Smokey Quartz Point; Purple Cowrie Shell
John the Conqueror Root
Antique Underwood Progress Typewriter Ribbon tin, approximately 2.5 inches
Q. Travel Bone Set - $44.00
R. 9-Piece Travel Bone Set
Coyote Claw (foot) .75 inch; Lynx Phalange (toe) 1 inch; Diamondback Rattlesnake Vertebrae (spine) 1 inch; Fossilized Shark Tooth 1.10 inches
Antique Key; Glass Heart Bead; Smokey Quartz Point; Purple Cowrie Shell
John the Conqueror Root
Antique Cameron Hallmark Typewriter Ribbon tin (lid has slight dent but very nice tin), approximately 2.5 x 2.5 inches
R. Travel Bone Set - $43.00
S. 9-Piece Travel Bone Set
Bobcat Canine (tooth) 1.5 inches; Domestic Cat Metacarpal (foot) 1.75 inches; Coyote Claw (foot) .75 inch; Diamondback Rattlesnake Vertebrae (spine) 1.25 inches
Carved Bone Skull Bead (unknown); British West African Star of David Half-Penny, Antique Carved Wood Dice (single); Purple Cowrie Shell
John the Conqueror Root
Antique Vertex Roytype Typewriter Ribbon tin, approximately 2.5 inches
S. Travel Bone Set - $42.00
T. 9-Piece Travel Bone Set
Bobcat Canine (tooth) 1.1 inches; Domestic Cat Metacarpal (foot) 1.75 inches; Coyote Claw (foot) 1 inch; Diamondback Rattlesnake Vertebrae (spine) 1 inch
Carved Bone Skull Bead (unknown); British West African Star of David Half-Penny, Antique Carved Wood Dice (single); Purple Cowrie Shell
John the Conqueror Root
Antique Quest Old Hickory Typewriter Ribbon tin, approximately 2.5 inches
T. Travel Bone Set - $43.00
U. 9-Piece Travel Bone Set
Domestic Cat Metacarpal (foot) 1.6 inches; Coyote Claw (foot) .8 inch; Grey Fox Canine (tooth) 1 inch; Diamondback Rattlesnake Vertebrae (spine) 1 inch
Carved Bone Skull Bead (unknown); British West African Star of David Half-Penny, Antique Carved Wood Dice (single); Purple Cowrie Shell
John the Conqueror Root
Antique Imperial Easy Copy Typewriter Ribbon tin, approximately 2.5 inches
U. Travel Bone Set - $40.00
V. 9-Piece Travel Bone Set
Domestic Cat Metacarpal (foot) .8 inch; Coyote Claw (foot) .8 inch; Grey Fox Canine (tooth) 1 inch; Diamondback Rattlesnake Mandible (jaw) 1.75 inches
Carved Bone Skull Bead (unknown); British West African Star of David Half-Penny, Antique Carved Wood Dice (single); Purple Cowrie Shell
John the Conqueror Root
Antique Philco Typewriter Ribbon tin, approximately 2.5 x 2.5 inches
V. Travel Bone Set - $44.00
W. 9-Piece Travel Bone Set
Coyote Claw (foot) 1 inch; Lynx Phalange (toe) .75 inch; Diamondback Rattlesnake Vertebrae (spine) .75 inch; Fossilized Shark Tooth 1 inch
Antique Key; Glass Heart Bead; Smokey Quartz Point; Purple Cowrie Shell
John the Conqueror Root
Antique Miller Carnation Typewriter Ribbon tin, approximately 2.5 inches
W. Travel Bone Set - $43.00
X. 9-Piece Travel Bone Set - SOLD
Coyote Claw (foot) .8 inch; White-Tail Deer Distal Phalanx (toe) 1.25 inches; Lynx Phalange (toe) 1.5 inches; Fossilized Shark Tooth 1.25 inches
Antique Key; Glass Heart Bead; Smokey Quartz Point; Purple Cowrie Shell
John the Conqueror Root
Antique Reliant Typewriter Ribbon tin, approximately 2.5 x 2.5 inches
X. Travel Bone Set - $36.00 - SOLD
Y. 9-Piece Travel Bone Set
White-Tail Deer Antler (tip) 1.6 inches; Lynx Phalange (toe) .75 inch; Diamondback Rattlesnake Vertebrae (spine) 1.1 inches; Fossilized Shark Tooth 1.1 inches
Antique Key; Glass Heart Bead; Smokey Quartz Point; Purple Cowrie Shell
John the Conqueror Root
Antique Manifold Panama Typewriter Ribbon tin, approximately 2.5 inches
Y. Travel Bone Set - $44.00
Z. 9-Piece Travel Bone Set
Bobcat Canine (tooth) 1.5 inches; Domestic Cat Metacarpal (foot) 1.4 inches; Coyote Claw (foot) .9 inch; Diamondback Rattlesnake Vertebrae (spine) 1.1 inches
Carved Bone Skull Bead (unknown); British West African Star of David Half-Penny, Antique Carved Wood Dice (single); Purple Cowrie Shell
John the Conqueror Root
Antique Little's Indeliba Typewriter Ribbon tin, approximately 2.5 inches
Z. Travel Bone Set - $42.00
AA. 9-Piece Travel Bone Set
White-Tail Deer Antler (tip) 2 inches; Lynx Phalange (toe) .75 inch; Diamondback Rattlesnake Vertebrae (spine) 1.1 inches; Fossilized Shark Tooth 1 inches
Antique Key; Glass Heart Bead; Smokey Quartz Point; Purple Cowrie Shell
John the Conqueror Root
Antique Codo Super-Fiber Typewriter Ribbon tin, approximately 2.5 inches
AA. Travel Bone Set - $44.00
BB. 9-Piece Travel Bone Set
Bobcat Canine (tooth) 1.3 inches; Domestic Cat Metacarpal (foot) 1.1 inches; Coyote Claw (foot) .75 inch; Diamondback Rattlesnake Mandible (jaw) 2.25 inches
Carved Bone Skull Bead (unknown); British West African Star of David Half-Penny, Antique Carved Wood Dice (single); Purple Cowrie Shell
John the Conqueror Root
Antique Standard Typewriter Ribbon tin, approximately 2.5 inches
BB. Travel Bone Set - $46.00
CC. 18-Piece Travel Bone Set
Coyote Baculum (penis) 3.25 inches; Coyote Canine (tooth) 1.3 inches; White-Tail Deer Antler (tip) 2.5 inches; Lynx Metacarpal (foot) 2.6 inches; Human Metacarpal (finger) 2.1 inches; Diamondback Rattlesnake Mandible (jaw) 2 inches (NOT IN PHOTO); Turkey Vertebra (neck) 1.5 inches
Carved Bone Palad Khik (unknown; penis); Antique Key; Antique Multi-Color Dice (single); British West African Star of David Half-Penny; Obsidian Arrowhead; Purple Cowrie Shell; Sea Shell
John the Conqueror Root; Little John to Chew Root; Star Anise Pod; Cardamom Pod
Antique Puretest Epsom Salt tin, approximately 2.5 x 1.5 x 2.5 inches
CC. Travel Bone Set - $102.00
DD. 18-Piece Travel Bone Set
Bobcat Metacarpal (foot) 3 inches; Coyote Baculum (penis) 3.1 inches; Coyote Canine (tooth) 1.7 inches; White-Tail Deer Antler (tip) 2.5 inches; Human Metacarpal (finger) 2.25 inches; Lynx Metacarpal (foot) 2.5 inches; Diamondback Rattlesnake Mandible (jaw) 2.1 inches (NOT IN PHOTO)
Carved, Dyed, & Etched Bone Palad Khik (unknown; penis); Antique Key; Antique Multi-Color Dice (single); British West African Star of David Half-Penny; Obsidian Arrowhead; Purple Cowrie Shell; Sea Shell
John the Conqueror Root; Little John to Chew Root; Star Anise Pod; Cardamom Pod
Antique Crystalized Canton Ginger hinged tin, approximately 4 x 2.5 x 1 inches
DD. Travel Bone Set - $116.00
EE. 18-Piece Travel Bone Set
Bobcat Metacarpal (foot) 3 inches; Coyote Canine (tooth) 1.6 inches; White-Tail Deer Antler (tip) 2.5 inches; White-Tail Deer Distal Phalanx (toe) 1.5 inches; Lynx Metacarpal (foot) 3 inches; Raccoon Baculum (penis) 3.5 inches; Diamondback Rattlesnake Mandible (jaw) 1.75 inches (NOT IN PHOTO)
Antique Key; Antique Multi-Color Dice (single); British West African Star of David Half-Penny; Obsidian Arrowhead; Purple Cowrie Shell; 2 Sea Shells
John the Conqueror Root; Little John to Chew Root; Star Anise Pod; Cardamom Pod
Antique Rich's Crystalized Canton Ginger hinged tin (well-loved slightly-rusted finish but no dents), approximately 4.5 x 2.5 x 1 inches
EE. Travel Bone Set - $66.00
FF. 18-Piece Travel Bone Set - SOLD
Bobcat Metacarpal (foot) 3.1 inches; Coyote Baculum (penis) 2.75 inches; Coyote Canine (tooth) 1.5 inches; White-Tail Deer Antler (tip) 3 inches; Human Metacarpal (finger) 2.25 inches; Lynx Metacarpal (foot) 3 inches; Diamondback Rattlesnake Mandible (jaw) 2.1 inches (NOT IN PHOTO)
Carved Bone Palad Khik (unknown; penis); Antique Key; Antique Dice (single); British West African Star of David Half-Penny; Obsidian Arrowhead; Purple Cowrie Shell; Sea Shell
John the Conqueror Root; Little John to Chew Root; Star Anise Pod; Cardamom Pod
Antique Lazzaroni Biscuits tin, approximately 3.5 x 2.5 x 1.3 inches
FF. Travel Bone Set - $105.00 - SOLD
GG. 18-Piece Travel Bone Set
Bobcat Metacarpal (foot) 3.1 inches; Coyote Canine (tooth) 1.6 inches; White-Tail Deer Antler (tip) 3.1 inches; Human Metacarpal (finger) 2 inches; Lynx Metacarpal (foot) 3 inches; Raccoon Baculum (penis) 3.75 inches; Diamondback Rattlesnake Mandible (jaw) 1.75 inches (NOT IN PHOTO)
Carved Bone Palad Khik (unknown; penis); Antique Key; Antique Multi-Color Dice (single); British West African Star of David Half-Penny; Obsidian Arrowhead; Purple Cowrie Shell; Sea Shell
John the Conqueror Root; Little John to Chew Root; Star Anise Pod; Cardamom Pod
Antique Rich's Crystallized Canton Ginger hinged tin, approximately 4.5 x 2.5 x 1 inches
GG. Travel Bone Set - $108.00
HH. 18-Piece Travel Bone Set
Bobcat Metacarpal (foot) 3.1 inches; Coyote Baculum (penis) 3.25 inches; Coyote Canine (tooth) 1.6 inches; White-Tail Deer Antler (tip) 2.5 inches; Human Metacarpal (finger) 2 inches; Lynx Metacarpal (foot) 2.75 inches; Diamondback Rattlesnake Mandible (jaw) 2.3 inches NOT IN PHOTO)
Carved, Dyed, & Etched Bone Palad Khik (unknown; penis); Antique Key; Antique Dice (single); British West African Star of David Half-Penny; Obsidian Arrowhead; Purple Cowrie Shell; Sea Shell
John the Conqueror Root; Little John to Chew Root; Star Anise Pod; Cardamom Pod
Antique Allenburys Black Currant Pastilles hinged tin, approximately 4 x 2.5 x 1 inches
HH. Travel Bone Set - $116.00